Blue Streak II / Model 629
With versatility unmatched by any other straight knife available, the Blue Streak II is the obvious choice when one machine is required to perform many roles. Designed with a low center of gravity for ease of handling, and featuring the best power to weight ratio in the industry, the Blue Streak II provides maximum productivity with minimal fatigue.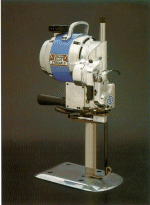 One Shot™ single reservoir oiling system requires the operator to lubricate the cutter only once during each work shift. The automatic metering system ensures the proper flow of lubricant to the knife mechanism for optimal protection of all reciprocating parts
All Eastman straight knives are equipped with the patented Knife Saver® one touch automatic sharpener. By selecting one of four sharpening belt grits, an operator can hone the knife blade to any edge for the perfect fit between machine and material.

As are all Eastman Machines the straight knifes come equipped with the patented Uni-safe ** Terminal Block and Attachment Plug, witch allows one hand connect/disconnect. The Uni-Safe is designed to meet all existing international safety codes.
Brute®/Model 627
The Brute® boasts all of the features found on the Blue Streak II 629 with the addition of a motor having more horsepower. This makes the Brute the ideal tool for cutting extra heavy cloth or an increased number of ply.
The Brut's extra power is also recommended for standard cuttingapplications in situationswhen low line voltage is a problem. The Brute's 2.20 HP motor andds only 3lbs. more weight and makes Eastma's Brute the most powerful straight knife cutting machine made.